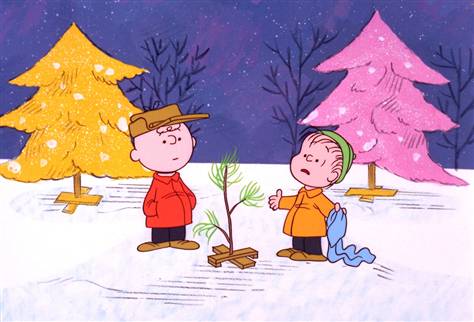 A Boy Named Charlie Brown
Things get off to a bumpy start. First, Charlie fails to make anything profound out of the cloud formations above, just a "ducky" and a "horsy." (But that's always been one of his best qualities--he calls them as he sees them.) Then he has a disastrous kite experience, followed by further humiliation on the baseball field (with its dandelion-covered pitching mound). Just when it seems as if things couldn't get much worse--they don't. Charlie finds something he's good at. Lucy, Violet, and the rest of the Peanuts gang doubt that his spelling bee winning streak can possibly last, but Charlie proves them all wrong and makes it to the national championships in New York City. His best pal, Linus, and free-spirited pooch, Snoopy, arrive shortly afterwards and provide their support. Granted, this rare, full-length feature film ends just as it began, with one more small humiliation, but it's Charlie's achievement that leaves the bigger impression. There are even a few lessons to be learned, but the tone is never preachy or condescending. Along the way, there are numerous pleasures to enjoy: Vince Guaraldi's classic Oscar-nominated score (featuring lyrics by Rod McKuen), the brightly hued, clean-lined animation (which occasionally erupts into impressionist and pop art flights of fancy), Schroeder's lovely rendition of Beethoven's Pathetique Sonata, Snoopy's ice-skating escapade at Rockefeller Plaza, and Linus's Fred Astaire-inspired dance with his long lost blanket.
Buy On DVD from Amazon.com
A Charlie Brown Thanksgiving
This sweet, heartwarming 1973 offering from the Peanuts gang (and Charles Schulz) once again shows Charlie Brown in a pickle, as his erstwhile friends impose upon the hapless would-be-host to provide a memorable and traditional Thanksgiving feast. And as much as Charlie Brown would rather forget the whole thing, he just can't help but try for fear of being labeled a failure. Ultimately it's up to Snoopy and Woodstock to save Charlie from certain embarrassment, and it falls to Linus to impart to all assembled the true meaning of Thanksgiving. This very special Emmy Award-winning cartoon features the usual sweet unassuming humor that only the Peanuts can provide, along with the melodic Vince Guaraldi score, and is one of those childhood classics meant to be enjoyed again and again.
Buy On DVD / Blu-ray from Amazon.com
It's The Great Pumpkin, Charlie Brown
Charlie Brown gets rocks in his trick-or-treat bag, Linus awaits a visitation from the Great Pumpkin in his terribly sincere pumpkin patch (while the adoring little Sally sits tight with him), Snoopy falls asleep, Lucy harasses Schroeder, and Pig-Pen kicks up a dust storm even beneath his costume in this classic television broadcast. Funny stuff, but also graced with Charles Schultz's more poignant and gently satiric themes from the 1960s on the influence of faith, failure, and hope in our lives.
Buy On DVD / Blu-ray from Amazon.com
A Charlie Brown Christmas
This television classic features the Peanuts characters in the story of Charlie Brown's problematic efforts to mount a school Christmas pageant. Everybody's on board: Lucy, Snoopy, Schroeder, Pig-Pen, but the biggest impression is surely made by Linus, who stops the show with his recitation from the gospels of the story of Christ's birth.
Buy On DVD / Blu-ray from Amazon.com
It's the Easter Beagle, Charlie Brown
The thirteenth installment in the evergreen Charlie Brown animated series, this is a delightful romp through the rites of spring. The running gag that holds this string of episodic misadventures together is Peppermint Patty's futile attempts at explaining how to make Easter eggs to Marcy. Highlights of this rather surreal Peanuts outing include Snoopy's dancing with little bunny rabbits inside a kaleidoscope, Sally heading to the mall to purchase a pair of platform shoes (this video was made in 1974), and Woodstock's lavishly equipped bachelor-pad birdhouse. As with the best of the Peanuts cartoons, this will entertain children and adults alike, and is one of the last of the series to feature a music score by Vince Guaraldi.
Buy on DVD from Amazon.com
Be My Valentine, Charlie Brown
"Peanuts" creator Charles Schulz retired from the cartoonist's life early in 2000, and indeed left a few loose strings hanging among his chronically dissatisfied characters. He never did, for instance, cut Charlie Brown much slack in the romance department (or let him kick Lucy's football, for that matter). Sympathetic readers might have taken note of a story in the press just before Schulz said farewell, in which the inspiration for Charlie Brown's unrequited love interest--the never-seen, too-distant, "little red-haired girl"--was identified as a woman who turned down a marriage proposal from Schultz a half-century ago. That bit of biographical detail now adds poignancy to Be My Valentine, Charlie Brown, a 1975 television special built upon years of Valentine's Day "Peanuts" strips. This half-hour show finds Charlie Brown suffering, typically, the ignominy of receiving no hearts-and-flowers greetings while the rest of the gang, including Snoopy, spend their day sorting through piles of love notes. Worse, Schulz's famous sad sack can't get up the nerve to approach his unapproachable angel, though there may be--just may be--a glimmer of hope this time around. It may be Valentine's Day, but not much else is different in the "Peanuts" neighborhood.
Buy On DVD from Amazon.com
It's Arbor Day, Charlie Brown
To celebrate Arbor Day, everybody works together to plant a garden. Unfortunately, the garden is located in Charlie Brown's baseball field, and he has a game with Peppermint Patty's team approaching. However, Charlie Brown works to make the best of the situation by attaching baseball gloves to the trees as well as caps (to make them look like scarecrows), which results in Peppermint Patty's team being unable to score due to the large number of fly outs from the balls being hit into the gloves. Schroeder says he will kiss Lucy if she hits a home run, which he figures she will not. However, Charlie Brown is happy to see Lucy indeed hit a home run and score the only run in the game. The game is cut short by rain, and although Charlie Brown expresses agony that "We were winning!", he accepts it as a de facto victory and one of the few times his baseball team has won a game.
Buy On DVD from Amazon.com