And as much as Charlie Brown would rather forget the whole thing, he just can't help but try for fear of being labeled a failure. Ultimately it's up to Snoopy and Woodstock to save Charlie from certain embarrassment, and it falls to Linus to impart to all assembled the true meaning of Thanksgiving. This very special Emmy Award-winning cartoon features the usual sweet unassuming humor that only the Peanuts can provide, along with the melodic Vince Guaraldi score, and is one of those childhood classics meant to be enjoyed again and again.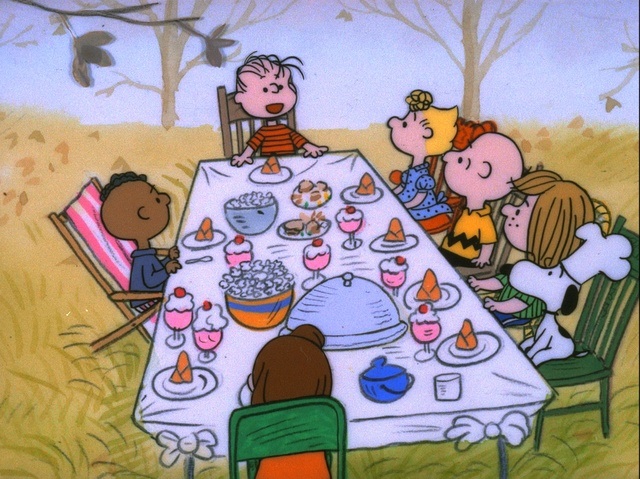 Two slices of toast, a handful of jellybeans, some pretzels - not quite what comes to mind when you think of Thanksgiving dinner. It's not what Peppermint Patty imagines either, but that's what she gets when she invites herself over to Charlie Brown's house for a turkey-day feast. After chastising "Chuck" for providing such a meager meal, she ends up eating more than her words and gains a few pounds of emotional sustenance. She also learns a little bit about the true meaning of the holiday. And you will too.
Voices of Todd Barbee, Bill Melendezz, Kip DeFaria. When Peppermint Patty unexpectedly invites the entire Peanuts gang over to Charlie Brown's for the holiday, Chef Snoopy and Woodstock the Pilgrim carry the day with an unusual feast.
Cast, Characters & Crew
Todd Barbee as Charlie Brown
Robin Kohn as Lucy van Pelt
Stephen Shea as Linus van Pelt (speaking/singing)
Hilary Momberger as Sally Brown
Christopher DeFaria as Patricia "Peppermint Patty" Reichardt (speaking/singing)
Jimmy Ahrens as Marcie
Robin Reed as Franklin
Bill Melendez as Snoopy and Woodstock
Bill Melendez - Director